Peru Day 1: Cusco streets, Qoricancha, REI tour begins
Woke up early, went for a pre-dawn walk around Cusco. The city was active already, partly with brisk-looking women and men purposefully walking toward their day, partly with somewhat less fresh-seeming men (yes, all men) stumbling out of doorways or staggering down the tilty cobbled streets, sometimes holding on to walls for support. In retrospect I'm surprised by how little thought I gave that, by how depressing I find it now but how unremarkable it seemed then. Is it my puertorican upbringing? It's been decades since I've lived in PR or experienced that kind of alcoholism; shouldn't I have reacted with more shock or at least surprise? I didn't. I mostly felt the cool air, watched the lightening sky, smiled at the the industrious passersby (none smiled back), and avoided the slippery wet patches on the sidewalk and roads — half of Cusco hoses down their housefront in the early morning, making it keenly important to keep one eye on the ground. There's probably some sage life advice to be found there.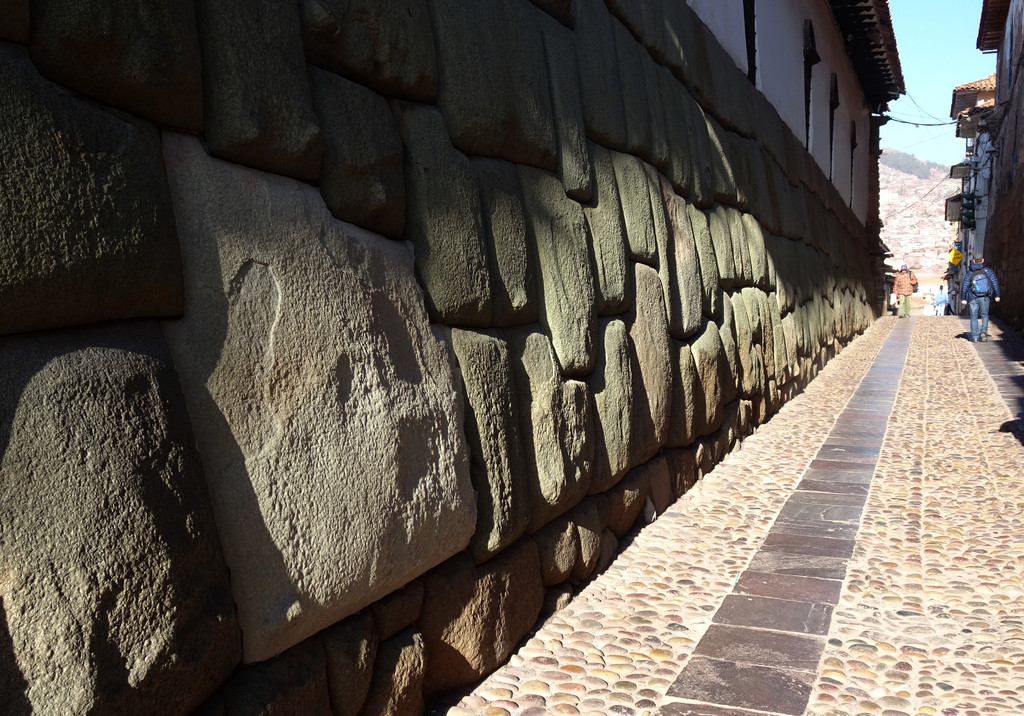 After my walk, another walk, this time in daylight and with Ginger. And with a map, too, which helped me find the famous
twelve-angled stone
—I had walked right by it on my earlier walk. It's just right there, no sign or marker, a seemingly humble part of an ordinary narrow Cusco street. Except, damn: it's incredible. Not that I know anything about rock cutting or shaping or assembly, but it's pretty obvious that it takes tremendous skill and art to craft blocks like these together. (Note that Lego kits then, much like today, were prohibitively expensive).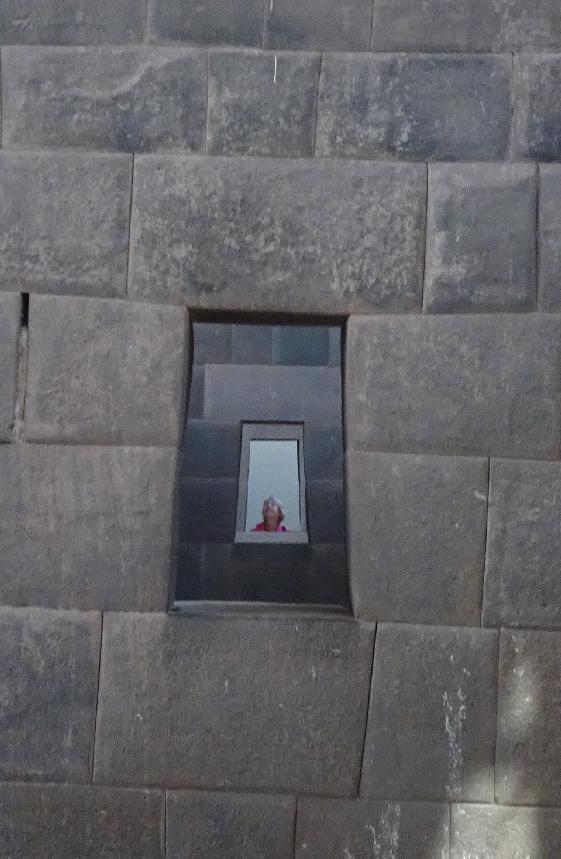 More Cusco: San Francisco Plaza, which hosts a small but complete botanical garden showcasing native trees and bushes and flowers; an artisan crafts market much in the style of the Plaza del Mercado de Rio Piedras but with less (as in: no) produce; and the Qoricancha, a still-breathtaking Inca temple at the heart of their empire. Mostly destroyed or repurposed by Spanish vandals, of course, but what's left is nonetheless awe-inspiring. Exquisitely laid stone blocks, aligned windows, walls, imposing views. Only legends remain of what it looked like in pre-Spanish times; it's probably safe to say that it was beyond anything we can imagine. Our guide, María, was knowledgeable and spoke good English, sparing me the need to keep a running translation. Between Sacsayhuamán, Qoricancha, and the streets of Cusco, we were starting to develop a sense for different Inca building techniques and arts. This would prove valuable in Machu Picchu.
---
REI Adventures
We ate a brief lunch at a small hole in the wall—you will see this again—then went back to our hotel to begin the REI portion of our travels. The tour. We were fifteen in total, a pretty large but manageable size. Introductions were made, briefings were given, and we all piled into two Mercedes-Benz vans for a whirlwind afternoon of touring sites southeast of Cusco. This was mostly driving, with a very tiny bit of walking around which I assume is designed by REI to let the guide assess each individual's ability to handle themselves at altitude. I think we all passed.
The first site was an Inca aqueduct whose name I never learned; impressive construction and engineering. Next up was Pikillaqta, a Wari (pre-Inca) village in moderate repair. Here we walked up and down a bit (more quiet observation by our guide), marveled at the Inca Trail passing right by, gazed somberly at decaying walls, and tasted florally sharp red peppercorns from the many vibrant trees around us.
Our final and most amazing stop was
Tipón
, an Inca construction featuring perfect terraces and an unbelievable still-running aqueduct, part underground, part running in channels, part splashing in rock waterfalls—rock which, after five hundred years of nonstop flow, is still completely uneroded.
Tipón was a true highlight. The setting was beautiful: way up high in the mountains, maybe a 15-minute drive from the valley floor. The terraces, soft in evening shadows, loomed imposing above us as we started the short hike up to the top. The splashy waterfall at one of the middle terraces, designed and built of course, nonetheless felt happy and wild; a contrast with the fountain at the top, ordered, well manicured, more sober. Looking down at the terraces below and the mountains across the valley I got the briefest first sense of living place, as if the builders and guardians had merely stepped away for a few minutes and could return any second to check in on their still-running aqueducts, tend to their crops.