Peru Day 0: Arrival
The first emotion I felt in Cusco was momentary panic: looking out the airplane window on landing, holy shit, we're going way too fast! Followed immediately by: oh, never mind, it's just density altitude. Cusco is at 11,000 feet; thinner air means wings need higher speed for the same lift. The adrenaline took a few more seconds to dissipate, and I took advantage of the delay to enjoy my first and so far only landing above 10,000 feet. (spoiler alert: we landed safely).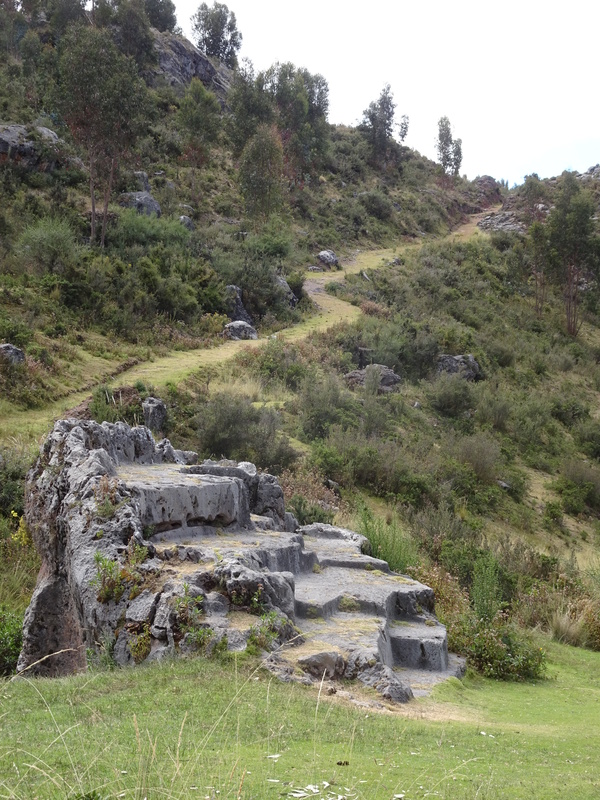 After dropping our bags off at the hotel we started walking the city. First stop:
Sacsayhuamán
(pronounced by some as "sexy woman"). Or at least that was the plan; we got there and discovered that the entry cost was S/130 (US $40) per person, more than we were willing to spend for one afternoon. Fortunately, we were approached by a local entrepreneur who offered to drive us around to other attractions for much less. Américo drove us first to the nearby Temple of the Moon, a stunningly picturesque site with beautiful rock formations, carvings, flowing water, and the Inca Trail running right by it. It was a perfect preface to the rest of our trip.
---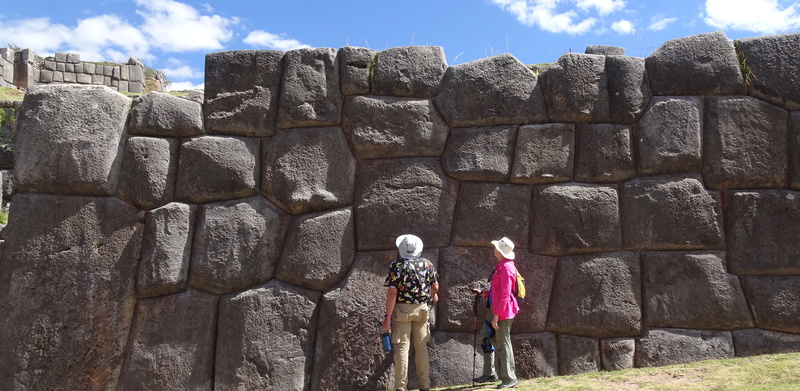 Américo took us to a few more sites and we got to see Sacsayhuamán anyway: as it turns out, only the bottom entrance has an access control; the uphill one is open. We walked in, explored a little bit, felt dwarfed by the stones. Sacsayhuamán is, frankly, immense and we were not prepared for it. Were I to do the trip over again, I would've gone to Sacsayhuamán after Ollantaytambo and Machu Picchu; and would've spent more time. The building stones are immense; although I'd grown used to seeing the term "megalithic" it didn't really make sense until I stood next to them. This is an impressive site that deserves admiration.
There's a Chocolate Museum in Cusco, near Plaza Regocijo, that is worth a good hour's visit. We saw, touched, handled, smelled cacao in many forms; learned much about its cultivation, especially in the area; and, of course, tasted. Not enough—what could ever be?—but a fair amount.
Dinner: Saving the Best for First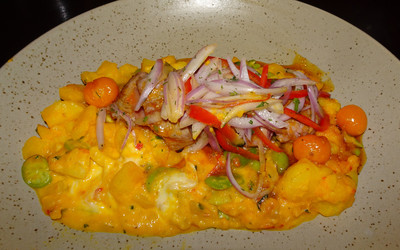 Sophie made me promise to eat at a Gastón Acurio restaurant while in Peru (this was not a burdensome promise). For dinner we had reservations at
Chicha
, and it was every bit as worthwhile as she made it out to be. Although ceviche isn't usually to my liking—I've had it a few times in the many Peruvian restaurants in Puerto Rico, but honestly nowhere else—I decided to try it here; it was sublime. I'm a convert. Ginger and I both had alpaca, cooked different ways; hers was in a curry (!) and was tender and mild; mine was in a Kapchi—traditional Cuscoan stew with broad beans and
aguaymanto
, an exquisite tart tangy sweet Peruvian fruit. We vowed to eat there again after the end of our trip, but alas the timing didn't work out. We'll have to go back.
After dinner we walked the two blocks back to our hotel but were stymied by a throng of people packing the street. Some sort of weird religious thing, people carrying icons and demigods, chanting, absolutely no way to get past them. We briefly watched them from a street corner, then decided to just walk around another block and hope they'd move on. They did.